Small Kitchens
Coach House Charm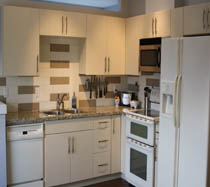 Who says "small and economical" can't be functional and stylish? Design student Kendra Redekop cleverly combines space saving features such as a microwave/hood fan combo and a double-oven slide in range, to maximize every inch of space while adding functionality.

Putting extra thought into the remaining space ensures that the kitchen is well planned. A little bit of elbow room between the range and fridge makes a much better work space, as well as nicely accommodating the coffee maker. Having the dishwasher to the left of the sink avoids congestion in the corner, and allows for a bank of drawers.

Good colour selection takes this simple kitchen to the next level, without adding to a lot to the cost. Choosing linen cabinets instead of stark white compliments the dark wood flooring beautifully. Stylish pulls, a modern back splash design and task lighting add to the overall look. The kitchen is finished off with granite countertops, which were remnants from a multi-family project. The resourceful student jumped at the chance to have granite countertops and developed her design based on that.

Click the image to the right to view a slideshow of this charming coach house kitchen photos.
Juniper - 1970's Update
Out with the old and in with the new!

New cabinets, flooring and paint transform an out of date 1970's home into a great starter home in Mission! Design student Kendra Redekop pulled together a stylish colour scheme to create a modern update for this older home, and then rolled up her sleeves to make it happen!

Click the image to the right to view a slideshow of this 1970's update.
Vintage Farmhouse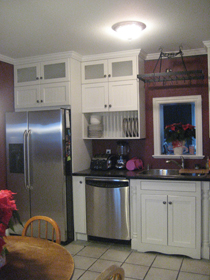 When it came time to renovate their kitchen, this couple wanted to maintain the character of their vintage farmhouse home. Combining our "Mission" doors with traditional features such as plate racks, pot racks and turned posts at the sink, in a painted finish gives this country kitchen the added charm it needed to compliment this historical Abbotsford home.


Click the image to the right to view a slideshow of the Povse renovation residence project photos.